Rare Transportation will be monitoring the CDC and Alabama Department of Health for updates. Rare Transportation continues to aggressively expand our cleaning and safety protocols in response to the coronavirus.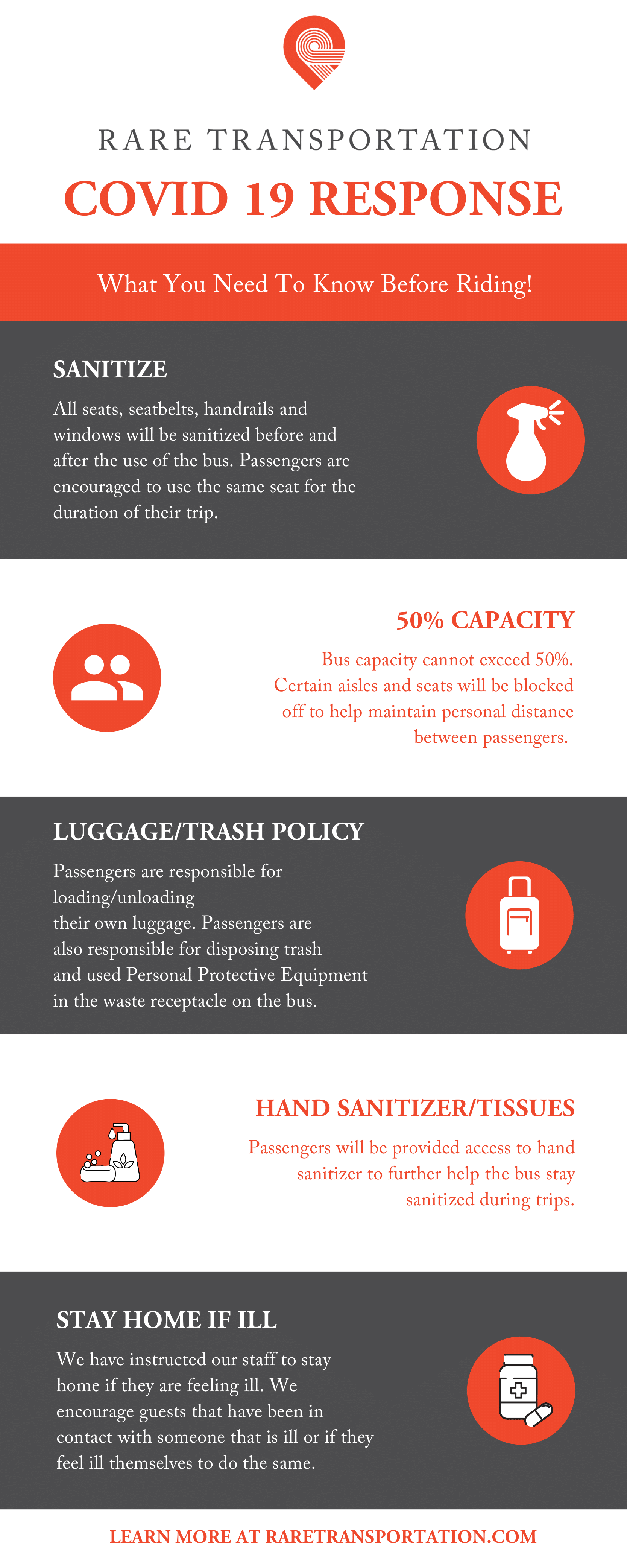 Preventative steps we will be taking to ensure passenger safety:
Buses will be running on 50% capacity until the government changes this mandate

Buses will be thoroughly cleaned & sanitized prior to trips. Concentration on high-touch areas such as handrails, grab rails, seats, arm rests, seat belts, door handles, windows, & driver's area.
Where possible, require riders to leave the front seat on each side open to provide a buffer.
Drivers will open the back side of the roof hatch & crack driver's window to provide ventilation with air entering in the front & exiting rear roof hatch.
Provide our drivers with correct information on COVID-19, how it spreads, and risk of exposure.
Provide drivers and buses with masks, gloves, disinfecting wipes, and alcohol-based hand sanitizer and instructions on how/when to use.
Provide drivers with access to hand sanitizer, soap and paper towels to facilitate required hand washing.
Request passengers load and unload their own luggage.
Any bus exposed to any biohazard situation will be removed from service until thoroughly cleaned & sanitized.
Our drivers will be doing the following:
Staying home if they are sick or have symptoms.
Limit contact with passengers.
Wear gloves if there is a need to handle a passenger's belongings and when cleaning the bus.
Not using the "Recirculate" feature on vehicle climate control system.
Ask passengers to dispose of all trash in the waste receptacle.
Clean/sanitize the vehicle after use. Wipe seats with disinfecting wipes or spray with disinfecting spray. Wipe handrails and any other areas passengers touch. Wipe all controls in driver's area.
Properly dispose of trash and used cleaning supplies.
Practice everyday preventive actions of avoiding touching of eyes, nose, and mouth; use proper hand washing techniques and frequency; cough/sneeze into the bend of your arm.
Notify management immediately if a family member tests positive for COVID-19.