7 Reasons You Need Wedding Party Transportation
Rare Transportation Apr, 18 2019
---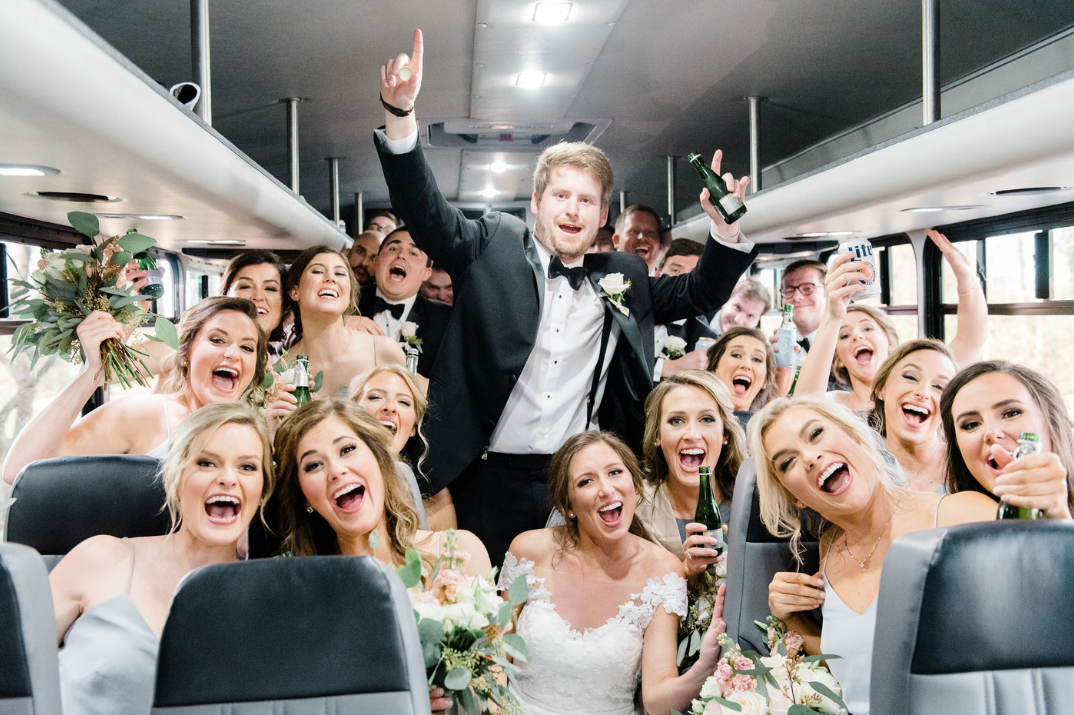 Congratulations! You're engaged and busy planning your upcoming wedding. There are so many things to consider and details to remember! No matter if you have a wedding planner or you're doing it yourself, don't forget to plan transportation for your wedding party.

So, what exactly is wedding transportation? We're not talking about a ride to the church (although we can help with that too). When we say wedding transportation we mean getting the bridesmaids and groomsmen from the 'getting ready' location, to the church and then to the reception.
Of course all your bridesmaids can drive themselves. You can leave it up to the groomsmen to work out their own rides. But do you really want to? After you read these reasons, probably not.
1. Getting to the church on time
It is important for your wedding party to to be on time to certain locations such as the ceremony, photos, reception. It can be a real issue for photographers to wait for the wedding party to arrive so they can do their photos in a timely fashion. If they are late, it can throw off the wedding timeline which is not something you want to happen on the wedding day. You spend a lot of your budget on the photographer so you want to ensure that you have everyone there for the photos. Remember, photos will last a lifetime so you want to get this right.
Transporting the wedding party together can also help with parking. If you are being transported to a photo location downtown, you do not want to waste precious time searching for parking for 10-30 people. You can pull up to your photo location, unload the vehicle, and let the driver handle parking so you can immediately begin your photos without worrying and adding stress to what is supposed to be a stress free day.
More importantly, you do not want to be waiting on your wedding party to arrive to the ceremony location. The last thing you want on your wedding day is for everyone to be waiting on the bridesmaids or groomsmen so you can marry the love of your life.
2. Drinking safely
Let's be honest here, the wedding party wants to have fun but it needs to be safe fun. Many wedding parties like to partake in alcohol for the rehearsal dinner as well as the day of which can be unsafe if they need to travel to different locations. The beauty of providing transportation for your wedding party is allowing them to partake and not worry about anyone having an accident, going to jail or to the hospital.
3. Taking the best photos
If you reserve a bus or specialty vehicle, there will be great photo opportunities for the whole group. You will have so much fun riding to the next location listening to your favorite playlist and having drinks. It makes for great photos when you are relaxed and having a good time. Our brides love photos of their wedding party with the Trolley. Just think about the awesome candid shots you'll have.
4. Having fun
It's your big day! Let's have some fun. You've waited your entire life for your wedding day so you should get to really enjoy it. Spend time with your bridesmaids and don't worry about the little things like parking or driving.
5. Being driven by an insured and licensed driver
You would hate to spend your big day in the emergency room because your bridesmaid is such a terrible driver (everyone has THAT friend). This can ruin a day that is meant to be stress free so don't even consider having THAT friend (or anyone) being responsible to get people to the correct locations on time. Hire someone to handle this for you. You will thank yourself in the end and not have to worry about the added stress.
6. Preserving the timeline
You or your planner spent many hours putting together the perfect timeline. Transportation for your wedding party can play a major factor in keeping that timeline on track the day of the wedding. Think about how grouchy hundreds of wedding guests will be if the reception is delayed because the pictures took so long. Why did the pictures take so long? Because the photographer had to wait on the entire wedding party to arrive and park.
7. Keeping the wedding party separate for best first look
The first look is a precious moment for the bride and groom. If you want to truly capture the emotion behind the first look, it's imperative for the bride and groom to remain separated until the time comes. Incorporating transportation into your wedding details ensures that the first time the groom sees you will be genuine.
So there you have it. Seven (really good) reasons you should definitely consider having wedding transportation for your entire wedding party. That's where we come in. Rare Transportation is here to help. Contact us about our wedding packages and let us get you there.